Developmental awareness
The 'Cre8 in 8' Method is a capacity-building process that includes artistic skills training and personal development. It is often said that an artist holds a mirror up to society. If that is so, then the artist must be aware of the issues that affect his or her society: social, political, economical and cultural.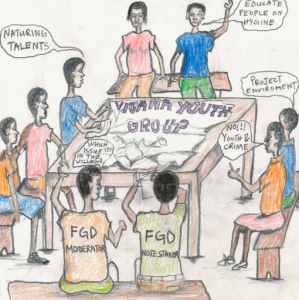 Step 5 of the 'Cre8 in 8' Method provides a guideline for organising that capacity-building process by engaging the target group and the larger community through so-called focus group discussions (FGDs).
Content and guidelines
Develop a focus-group questionnaire (also known as an FGD flow; see the example below).
Appoint a moderator (usually someone from the project team) and a note taker (usually one of the participants; make sure they are well briefed).
Gather the focus group together and make sure everyone is comfortable. It is recommended to have everyone sit in a circle.
Conduct a focus-group discussion.
Download Step 5