Masterclass 2021
In 2021 Cre8 East Africa takes a new step in its goal to sustain the results of its work in the Cre8 Masterclass program. In partnership with the Change The Game Academy by the dutch based NGO Wild Geese (Wilde Ganzen) and its East African partners. In December we will bring together a group of 12 trainees from three countries for this masterclass
Workshops
In Kisumu, Kenya we will offer them a program of workshops, presentations and lessons on project management, monitoring and evaluation methodology, fundraising, communication and PR, social media and artistic disciplines.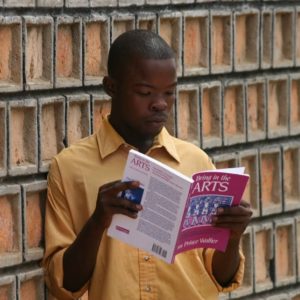 Our masterclass partners
For this masterclass program, cooperation has been sought with Wilde Ganzen. Through their 'Change the Game Academy' they train and support local organisations in various regions in organising and financing initiatives themselves. In East Africa Wilde Ganzen cooperates with its local partner Kenya Community Development Foundation (KCDF). We will also work with their trainers and coaches. In addition, Wilde Ganzen will finance part of the program. With this we are taking the next step in making our work in East Africa more sustainable.
We can use your support
For the Cre8 Masterclass we can use your support. Through the Give the Change platform from the Triodos Foundation we organise a fundraiser for this specific project. Do you want to know more about how you can donate? Visit our support page!
See our Cre8 East Africa Facebook page for regular updates.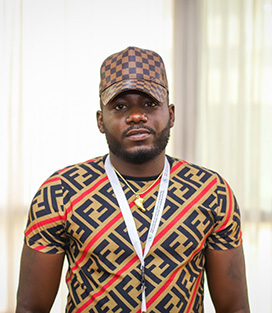 Collins Odhiambo Ochieng (he/him, 30)
Kisumu - Kenya
---
Collins Odhiambo Ochieng is a group leader, trainer, educator and drama teacher from Kisumu, Kenya. He currently works with
YADEN East Africa
as a project coordinator where he builds 'platforms of hope' for youths in conflict with social crimes and provides empowerment training to reformed youths after long battles with crime.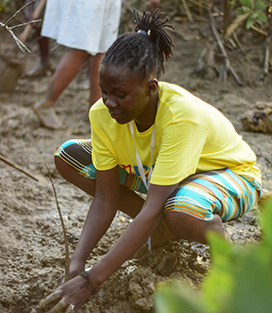 Millicent Nyong'o Oloo (she/her, 30)
Kisumu - Kenya
---
Millicent Nyong'o Oloo works with the Kisumu (Kenya) Artists for Children organisation as a project manager. This organisation is based in Nyalenda and Pandipieri, where it works with orphans and vulnerable children through art. Millicent has been trained in mask making and manipulation, music, puppet and dance and she is a dancer herself.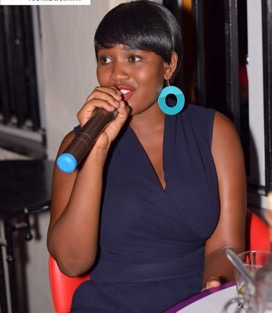 Rose Manga (she/her, 23)
Mombasa - Kenya
---
Rose Mang is a Kenyan actress and singer from Mombasa County, Kenya. She appeared in several local films and telenovelas (Pete, Selina) that speak about issues that affect society. She has been engaged in various educational community theater projects on issues like teenage pregnancy, violent extremism and peace.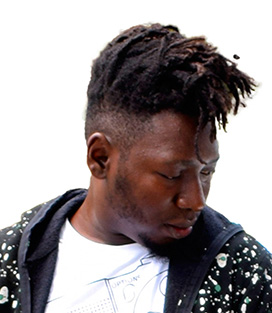 Victor Kahindi (he/him, 29)
Kilifi - Kenya
---
Victor Kahindi AKA Crash V is a music producer and singer- songwriter for 003 Record Label in Kilifi, Kenya.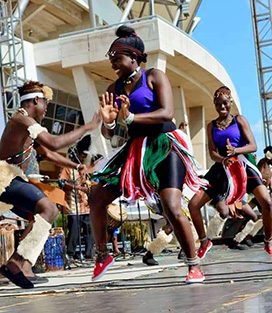 Winfred (Winnie) Kethi Njoroge (she/her, 29)
Nairobi - Kenya
---
Winfred (Winnie) Kethi Njoroge is a dancer at Tarumbeta Africa cultural Group in Nairobi. She trained and qualified as a youth grassroots development coordinator through 'Initiative X' implemented by YADEN East Africa. She is also a mentor and empowers young kids in the community of Korogocho.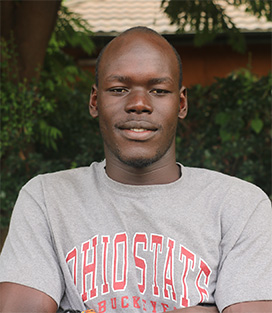 Eddie Ojok, (he/him, 28)
Gulu - Uganda
---
Eddie Ojok is an artistic director, project coordinator and youth leader from Gulu, Uganda. He works with several groups and organisations, such as Breakdance Project Uganda, #Gulu and Straight Talk Foundation. The Straight Talk Foundation designs and manages health and development communications programs for young people 10- 24 years.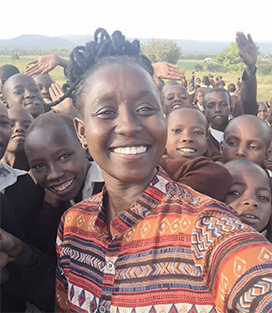 Jenipher Richard Mollel (she/her, 31)
Arusha - Tanzania
---
Jenipher Richard Mollel is a project manager for Future Warriors Project Inc., Arusha, Tanzania. A trainer, a guide, a researcher and a (Masaai language - English) translator (Utrecht University Netherlands, World Vision Tanzania, Sauti Moja, Longido, Tanzania).