Cre8 in 8 Method
Sami Gathii (Yaden director), Janneke Tigchelaar (Cre8 board) and Ben Hekkema (Cre8 coordinator ) developed a methodology and manual for youth groups to set up projects independently. This method is called Cre8 in 8.
Independently realise projects
Subsequently, with Dina Akinyi Abok (dance teacher and trainer) and Harisson Okwach (music and theater teacher and trainer), both from Yaden, a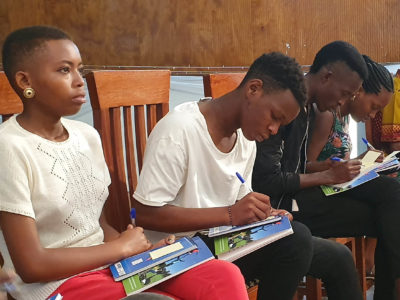 Cre8 in 8 training was designed. The goal of the Cre8 in 8 methodology and training is to enable young people in East Africa to independently realise projects.
Projects with the aim of creating music theater performances around themes relevant to the participants and for a local audience. In this way, young people are mobilised and enter into discussions with their community about topics that are important to them.
Train the Trainer
For this training we started with a pilot in 2014. After that, we trained group leaders in Uganda, Kenya, Tanzania and Rwanda.
In 2016 Cre8 trained a group of 45 young people from 12 local groups in Western Kenya (Kisumu) and Northern Uganda (Gulu).
In 2017 Cre8 trained a group of 22 young people from various youth organisations in Moshi, Tanzania.
In 2019 and 2020 Cre8 trained a group of 20 young people from eight Rwandan groups in Kigali, Rwanda.
Performance
The Cre8 in 8 training consists of a three- to five-day session in which the trainees are guided through the Cre8 in 8 methodology in a practical way. After the training they then apply this in practice under guidance of our trainers. After a few months this process will be concluded with a performance in their own community.
Download the Cre8 in 8 Method
Download the full program and you are able to follow the method step by step.
Download Program Book (English)
Download Program Book (Swahili)
Method explained in a video
This video explains the Cre8 in 8 method. We explain how it works and can be applied by others. Click play to watch the trailer: